Step 1: Really get to know your client
To improve your client's online visibility through link building, you must first get to know their:
Tone of voice
their current linkable assets
Their values, goals and standards
Just by doing this very first step in the research phase, you will be able to gather valuable data that will give you a nudge in the right direction in terms of link building tactics (we will cover this in more detail later in this post).
Some of the main aspects of the client-oriented analysis include:
Thorough content audit to identify which content pieces need to be completely removed, updated, expanded, promoted more aggressively or completely repurposed.
Determining your client's goals in terms of keywords and competitors' campaigns they look up to.
Determining link building tactics your client is willing to invest in and discussing which websites they perceive as their quality standard. This is where you shouldn't only act as a passive link prospecting mediator, but as an active SEO advisor.
Determining your client's additional SEO assets other than website and content: - Potentially valuable industry connections - Prominent partners who can boast large audiences - Something unique to offer that their target audience and market need (for example an access to valuable data no other company can offer)
Step 2: Thoroughly research your client's competitors
Performing a detailed competitor analysis will give you even more insight into which link building tactics work best within the home improvement niche, and simultaneously provide you with numerous prospects during the process.
What to keep track of:
Keywords and anchors
Taking a closer look at competitors' anchors for incoming links, internal linking, and other linking assets, alongside closely examining the keywords they are focusing on, will help you determine which keywords you are more likely to rank for, but also which ones are not worth including.
Pro Tip: Focusing on the keywords you want to rank for is paramount, but make sure you take into account those that will come in handy later in the prospecting phase: names of the influencers from the home improvement niche, relevant companies from the industry, specific events...
Backlinks
Research the websites linking to your competitors and figure out how to contact them. Allocate one column in your spreadsheet to the bare domain, but also have one for the very page on which the link was found, and at least one column for the pages specific to that kind of website.
Pro Tip: If the site in question is a home improvement related blog, save the following data:
the page with the competitor's link
blogger's contact email
blog's "write for us" page (if they have one)
Important note: Don't forget to take into account the broken links you come across. (We will explain why this is crucial in the link building tactic section of this article).
Content
Find out what type of content has attracted most attention in terms of organic links, likes, shares; and figure out what exactly makes that content so successful (content quality and marketing strategy) and then try to replicate it with your client's personal touch.
Pro Tip: While researching their content, make sure to track down the gaps in their content i.e. topics that they haven't covered but your client has the potential to tackle.
Step 3: Do a thorough target audience research
Figuring out what portion of the audience to target is pivotal, and digging deeper into their behavior can really make a difference. Try finding out:
what type of content works best for them
what triggers them to share a piece of content
which tone of voice do they prefer
which social media platforms can be utilized to reach them
how do they formulate the queries when searching for data/product/services your client is offering
Which brands and influencers they look up to and trust the most, and what made them so influential
Pro Tip: Use Google Analytics to record the audience's behavior. Read the comments they post on social platforms/forums/blogs and use that info to your advantage.
Link building tactics for home improvement websites
Once you are done with the planning and research stage, it's time to move on to actually implementing all the information you've gathered.
Here are some of the most effective home improvement link building tactics, along with tips on prospecting and assessing linking opportunities most likely to help you improve your rankings.
Guest blogging
As effective and popular tactic in the home improvement niche as it is in any other, writing guest posts for relevant, well-known and authoritative blogs is a great way to improve your client's rankings, traffic and online exposure in general.
You can look for adequate blogs in a number of ways:
Competitor research, that you have hopefully already completed by now
Following the social networks profiles of prolific authors in the niche
Reverse image search for profile pictures of those authors, or for images often used in posts similar to the one you're writing
Examining the comments section of relevant blogs you've found
Of course, if you know what you are doing, you don't need anything more than a carefully composed Google search - or dozens of them performed simultaneously by Dibz.
When composing a query, you need to define that you are looking for a home improvement blog, and if possible, for one that has already been demonstrated to publish guest posts.
The keywords part is used to define the niche, and the advanced parameters section to explain what kind of a website or a page you are looking for. This means that you can use the same parameters to look for certain types of websites in different niches - you only have to change the keywords.
Since you have to make sure that the keywords you are using are those likely to be found on the page you've specified in the parameter, to make it equally easy for you to use these searches in Dibz as it would be in Google, we won't give you full queries, but simply provide a list of parameters of a specific type, followed by a list of keywords that you could combine with each of those parameters. So, when it comes to guest blogging in the home improvement niche, there are three basic types of keyword/parameter, combinations:
Targeting the 'write for us' page - leading you straight to relevant blogs known to accept guest posts. Keywords you need to use are the ones often found on these pages, like broader topical categories related to the niche, title examples, or the audience that the blog is intended for.

Parameters

intitle:"Submit an Article"
inurl:/write-for-us/
intext:"Your article will be published"
intext:"Your post must be original"
inurl:/guest-blogging-guidelines
inurl:/contribute/
intitle:"Guest Post Guidelines"
inurl:/submit-article/
intitle:"Contribute to our site"

Keywords

interior design
home decor
kitchen design
tips bathroom remodel
decorative concrete
home staging tips
luxury home decor
top interior trends
home improvement tips
home renovations
DIY and interior design enthusiasts
gardening
arts and crafts
vintage furniture
tips for new homeowners
retrofitting
landscaping

Pro Tip: You don't have to use just one keyword or parameter in a query. You can combine more of them with OR operator, and thus cover all the popular versions of one footprint or keyword in just one search. Example: "home improvement tips" OR "home renovations" OR "DIY and interior design enthusiasts" inurl:/write-for-us/ OR inurl:/write-us/ OR inurl:/submit-article/

Targeting the page with the published guest post - again the same advantage of knowing that the blogs you'll get in the results are collaborating with guest bloggers. You can use most of the keywords you'd use in the previous example, so we won't be repeating them, but you can also use the names of popular authors in the niche, popular brands, or anything else likely to be found in these posts. Since most of what you are looking for will be in the body of the page, you mostly won't need to use advanced operators, just phrases in quotation marks.

Parameters

"contributing writer"
"guest blogger"
"guest column"
"guest contributor"
"guest post courtesy of"
"guest post was written by"
"community post, written by one of our"
"the following guest post"
"this guest post is from"
"his guest post was written"
"this is a guest article"

Targeting all the relevant blogs - you can't be sure they will be interested in a guest post, but that's also true for websites that have been publishing them previously, or that do have a 'write for us' page. Again, the keywords are the same as what you would use in the examples above, while parameters contain footprints found all over typical blogs. Of course, since home improvement niche is characterised by ample use of images, you'll often find relevant blogs by simply doing a reverse image search with an infographic you are constantly coming across, a prolific author's profile headshot, or one of the stock photos that you've seen on just about every home improvement blog you've ever visited.

Parameters

inurl:/blog/
inurl:/2019/
intext:"this blog is mean"
intext:blogroll
Pro Tip: The more specific the keywords and footprints you use, the more precise your search. For example, 'blogroll' is a term that is by far most likely to show up on blogs, making it great for these searches.
Resource pages
Well-researched, actionable and reliable guides are highly sought-after by people interested in home improvement. From DIY enthusiasts to those who have to invest in serious renovations, a large part of the interested audience is not there just for the pretty images, but actually in search of information they can trust. If you don't have something like this already it's time to create it, and if you do, it's time to start promoting it.
During the competitor backlink analysis, you are bound to find pages listing home improvement related resources, like helpful posts, instructional videos, transparent and informative case studies, etc. If you've been taking note of those pages, you can go through them and find the recurring phrases and footprints.
Aside from those listed in the guest posting section, your keywords choices will include reputable authors in the field; names of companies which probably conducted research likely to be mentioned on these pages and phrases usually found in the titles of these resources. As for the parameters, some of the most common ones include:
intext:"suggest a link" OR intext:"suggest a resource"
intitle:resources OR intitle:links OR intitle:"further reading" OR intitle:"more resources" OR intitle:"other resources" OR intitle:"favorite resources" OR intitle:"favorite tools"
inurl:resources OR inurl:"favourite resources" OR inurl:links OR inurl:"favourite links"
Pro Tip: Once you have a list of decent representatives of what you are looking for, you can always try finding more with the help of related: operator. Simply place it right before the URL of a site you like in Dibz or in Google search - related:www.example.com, and if the site you've provided is indexed and 'popular' enough, you'll get Google's recommendation for other, similar websites.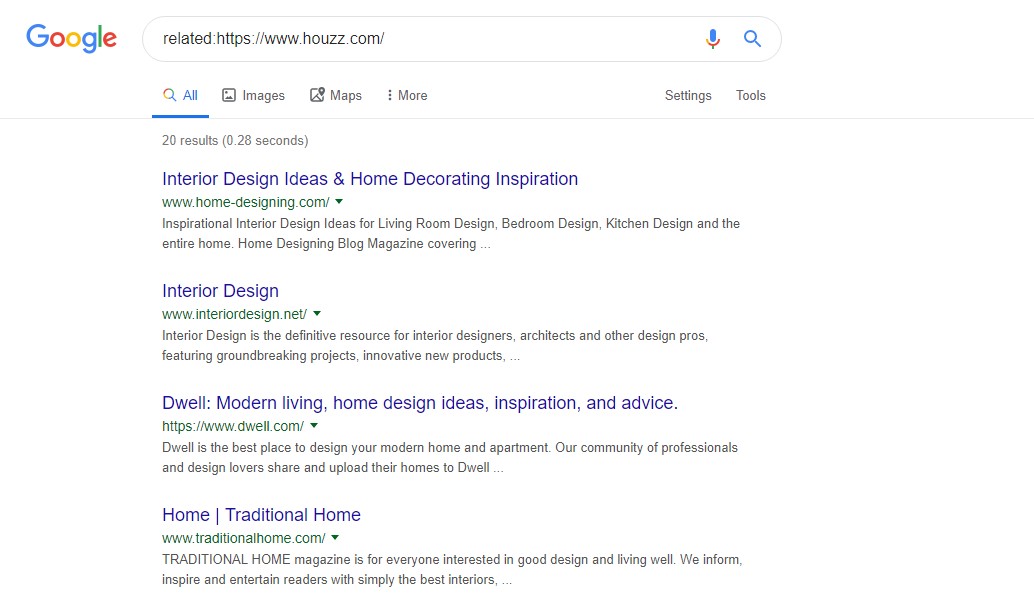 Broken link building
Depending on the quality and variety of content already on your client's website (or on yours if you are doing SEO for your own home improvement website), doing the research for resource page link building makes it very convenient to move right on to broken link building.
While looking for resources that you could emulate or that you already have something similar to, you had to have been constantly coming across broken links. You can find a number of browser extensions that are scanning the pages you visit for broken links, simply installing one and having it active while prospecting for resource pages brings a nice list of pages that are no longer there, and that were once considered link-worthy.
While contacting the sites where those links are found and suggesting they replace it with one to a similar resource you have (or intend to create) doesn't have the greatest response rates it requires minimal additional investment from you, in time or money, and can bring in amazing backlinks.
Local citations
If the client you are promoting is not someone running a personal blog, but a retailer or a provider of home improvement related services, getting them into local or niche-specific directories is an important part of helping them verify their identity with Google as quickly and efficiently as possible.
Naturally, this is only true if you take the time to provide detailed and accurate NAP (Name, Address, Phone) info and remember that quality is far more important than quantity - in link building in general, but with local citations especially.
Competitor research is, again, all that you need to find the best keywords, but you can use anything from your location or the names of categories commonly found in these directories to the names of your competitors in the broadest sense, i.e. basically anyone in your industry.
Once you have the common variations of these groups of keywords, simply combine them with some of these parameters:
"free business directory" OR "free local directory" OR "add free listing"
intitle:"business directory" OR inurl:"business directory"
inurl:submit intitle:directory intext:listing
intext:"review your listing" AND directory
inurl:/business-categories/ OR inurl:directory-listing OR inurl:submit-directory
inurl:submit AND inurl:free AND inurl:listing OR inurl:business OR inurl:link
Outreach for home improvement link building
A lot of the people you might want to outreach for a link are in home improvement because they have an actual passion for the subject and sophisticated aesthetic sensitivity, which means the more you actually share their interest for the subject, the better you'll get along.
Since you can theorize about outreach as much as you want and still not get any closer to the truth until you actually give it a shot, we asked our link builders with years of experience in promoting home improvement websites, what is it that seems to be working the best for them.
While we'll cover outreach for guest posting, the same principles apply for other home improvement link building tactics as well.
Subject line
Keep the subject line short, and at least hint at the possibility of cooperation. While you might want to refrain from directly mentioning guest posting, you need to at least allude to a collaboration, potentially even a long-term one. Mentioning the blog or the name of the blogger you are contacting can also improve open rates, as can phrasing the subject as a question, thereby prompting action.
If you are contacting a blogger and not a major company or an institution, there's no reason to be afraid of a bit of humor in the subject line, as long as your research of the blogger supports that approach.
Body of the email
People you are contacting have an eye for detail, and your email is a direct representation of how skilled you are at making text and links look presentable. Your email should be short and pretty.
Feel free to offer several topics you could cover for them, and make sure that they are in tone with what the blog already offers. Of course, always leave the room for bloggers to tell you if they already have a topic in mind.
Listing your previous references is invaluable, as they need to see that you can actually deliver what you're promising, however, if you have quite a few of them, you're probably better off creating an online portfolio page, listing them there, and simply linking to the portfolio in the email.
Personalization
home improvement niche. Like we mentioned, a lot of people you will be contacting will be passionate about what they do.
They will have strong preferences or animosities, so ensuring that you understand what their taste and convictions are, can make a world of difference.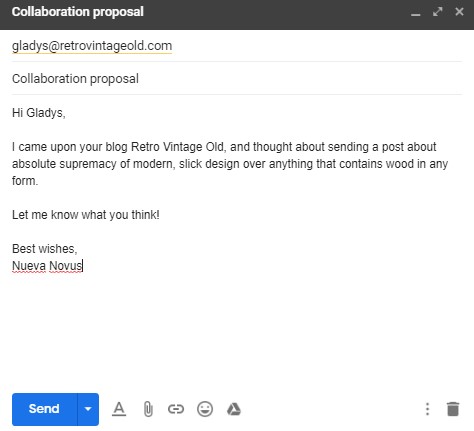 Example template email
Hello [bloggers name],
My name is [name], and I'm an interior design enthusiast from [location]. I love spicing up my living space and finding new ways to keep up with the latest trends and your blog has been a great source of inspiration in this regard.
I'd love a chance to become a guest writer for you and share some of my experiences with your readers, as I think my articles could fit right into the message you're trying to convey. I've been covering a wide range of topics so far and you can see my writing style here:
[link to online portfolio]
As you can see, I've been exploring various home improvement subjects in the past couple of years. I really hope that we can come up with a topic your readers will find interesting and innovative.
If you'd like to give this a go, I'm open to all suggestions.
Kindest regards,
[name]
Final word
While we couldn't go into too much detail, we hope we have at least outlined the entire process of link building for home improvement websites, and given you an idea how to find and outreach relevant prospects.
If you want to find out more about which sites to avoid or what else you are getting from a backlink apart from the famed link juice, our Learn SEO section will answer these and any other questions you may have about link building.