Step 1: do a thorough client research
In order to come up with a suitable travel niche link building strategy for your client, make sure you:
Get to know their unique tone of voice
Research their current linkable assets
Take into account their goals, values, and standards when it comes to their online presence
Even after this very first phase of your research you are likely to end up with loads of new information and valuable data that will help you come up with the right link building tactics (we will talk more about this aspect of research later in this article).
The most pivotal aspects of this analysis involve:
Detailed content audit - this will help you determine the current state of your client's content so you can see which articles need to be updated, expanded, promoted better, approached from a different angle or completely removed
Client's goals - discussing the goals with your client will help you determine what exactly to focus on in terms of link prospecting and keyword research, and competitors they look up to.
Willingness to invest - determine how much time, effort and money your client is willing to invest in their link building strategy so you can tailor the most optimized tactic that will suit their needs and capabilities.
Advanced Tip: Don't hesitate to tell your client which aspects of their strategy so far have been counterproductive and make sure they understand why.
Additional SEO assets - see if your client has some handy link building opportunities other than their content and website. These can include:

Industry connections that have potential online visibility boosting value
Industry partners who themselves have large audiences following them
Something new and unique to offer to the travel niche
Step 2: explore what their competitors have under their SEO hood
To gain further insight into what your link building strategy should look like, you need to do a bit of sleuthing and explore which tactics your client's most successful competitors are deploying.
This type of competitor analysis should cover the following aspects:
Content
Determine which content pieces have generated most organic traffic and have been most successful in terms of engagement, shares, links, likes, etc. Once you've figured out which aspects of their travel blog are making their content successful, you will be able to make an educated guess on the direction your client's SEO strategy should take.
Advanced Tip:
During the competitor content audit phase, explore any content gaps they might have. These untapped topics can make a huge difference in your strategy later on.
Keywords and anchors
Perform a thorough research of competitors' keywords (some should be in focus, some disregarded altogether) and anchors so you can develop a potent yet realistic strategy to improve your client's rankings. Pay attention to their incoming link anchors as well as internal link anchors.
Advanced Tip:
Don't forget to include the following keyword types in this stage: prominent figures and influencers from the travel niche, relevant brands and company names from the industry, names of important events, etc.
Backlinks
Quality backlinks are often pivotal in any off-site SEO strategy. Explore the websites linking to your client's competitors and try contacting them to do the same for your client's content. It is a good idea to have columns in your link building spreadsheet allocated to the domain, the page with the link, and other pages specific to travel related websites.
For example: The following data is worth saving can be useful for travel blogs:
the page containing the competitor's link
Email address belonging to the blogger
Their "write for us" page (if they have one, of course)
Important note: Be sure to log any broken links you encounter during this phase (more on why this may be useful later in this post).
Step 3: target audience research
It is important to figure out who your client's ideal customer is, but in order to get the most out of the target audience research stage, you should also pay close attention to their online behavior, including:
Which travel-related blog posts works best for them
What aspects of successful blog posts work as share triggers
What tone of voice works best for them
Which social media networks do they use the most
How are they formulating their queries when searching for travel-related blog posts
Which brands and influencers they look up to and trust the most, and what made them so influential
Advanced Tip:
Track and record the behavior of your client's target audience through an SEO tool like Google Analytics and read their comments on prominent travel blogs, forums and social media platforms.
Link building tactics for travel related websites
The more attention you paid during the research phase, the easier it will be for you to find relevant prospects. We already mentioned some of them, but, while outlining the most popular and effective methods of link building for sites in the travel niche, we'll be sure to make a note of the items that you have to keep an eye out for before actually engaging in prospecting or outreach.
Not surprisingly, one of the most popular link building methods in this niche is:
Guest posting on travel blogs
While there are a number of other ways to find relevant blogs, we'll cover most of them in the Influencer outreach section.
There are three basic approaches to looking for travel blogs that might publish your post:
'Write for us' pages. While they don't always lead to sites of the highest quality, looking for these pages specifically at least means that they should be open to guest posting propositions. If you are to use parameters describing this kind of a page, your keywords need to be limited to those likely to be found on a 'write for us' page of a travel blog. This includes description of who the site is for, what audience you would be writing for, popular locations or topics, etc. You can see some of our parameter and keyword suggestions below.

Parameters

intitle:"Submit an Article" OR intitle:"Guest Post Guidelines" OR intitle:"Contribute to our site"
intext:"Your article will be published" OR intext:"Your post must be original"
inurl:/submit-article/ OR inurl:/contribute/ OR inurl:/guest-blogging-guidelines OR inurl:/write-for-us/

Keywords

backpacking
places to go
reasons to visit
natural sights
luxury travel
travel app
interrailing
couch surfing
winter resorts
adventure trip
what to pack
holiday destination
budget travel
find accommodation
hostel
Bali adventure
wedding locations
tourist destination
travel the world
backpacking itinerary
things to do in
sights to see in
travel insurance
plan a trip
carry-on luggage
travel photographs
vacation spots
holiday budgeting
hotel reviews
travel guide

Advanced Tip:

Naturally, in Dibz or in Google, you can also string keyphrases with the OR operator, but you'd need to enclose them in quotation marks, so they are treated as a single element. "hotel reviews" OR "travel guide"

Published guest posts. This method is based on using parameters that will look for blogs that already have published posts by guest authors. All of the keywords we already listed can be used, along with popular destinations, agencies, events, niche authors, etc. Some of the parameters that would work with those keywords include:

Parameters

"guest contributor" OR "guest blogger" OR "contributing writer"
"community post, written by one of our" OR "guest post was written by" OR "guest post courtesy of"
guest AND post OR article OR contribution OR journal

Travel blogs in general. A lot of high-quality, popular blogs can't afford to openly invite guest blogging submissions, but might still be willing to hear you out if you really offer them something special. Again, the keywords are the same, you just have more freedom with the parameters, and can experiment with anything along the lines of:

Parameters

inurl:/blog/ AND inurl:/2019/
intext:"this blog is meant" OR intext:"write about travel"AND inurl:about
inurl:category/travel intext:blog OR intitle:blog
Influencer outreach
Link building in the travel niche is all about people. Influencers play a large role in both getting you to the right audiences and in being a great starting point for further prospecting. Here are some of the ways to find influencers in the travel niche who you can contact directly for a link, or who you might want to research further. If you want a more detailed post on the subject, we recommend you take a look at our in-depth Influencer Marketing Guide.
Blogs - Travel blogs we've been discussing in the previous section are a real treasure trove of influencers and that's not counting the bloggers themselves and the contributing outside authors. Aside from noting them down, along with contact information - including social networks profiles, you should also be looking at the comments section of those blogs, and see who shares their posts. Do the same with blogs you'll come across, run some of them through a backlink checker like Ahrefs or Open Site Explorer, and rinse and repeat as long as you feel the need to.
Social networks - Not only the place to find influencers, but sometimes also the best place to make initial contact with them. Searching by hashtags like #travelblogger, #travelblog, #backpackingblog on Twitter, using their advanced search to specify phrases you're interested in, or using the Twitter Search research type in Dibz, is often a good start, but isn't where your search should end. Aside from general social network sites which are particularly popular in this niche, like Instagram and YouTube, you should also research specialized community sites and platforms.
Local citation directories
While not every type of website in the travel niche will need local citation links, most of those with any kind of commercial purpose will.
You should never try to fill your link portfolio chock-full of directory links, but you should definitely consider submitting your site to the most reputable ones. So, if you have a registered address that you would like Google to pick up on or if you are offering services in a particular region, you should definitely invest in this approach.
If you have analyzed enough competitors, chances are you have already found most of the highest-quality directories in the travel niche, but you shouldn't stop at them, and instead use them to note down the footprints that can help you find directories which may be more specific and suit you better in terms of location or categories covered.
You simply need to base the keywords you'll use on those specifics, or list some of the competitors you haven't analyzed, and combine this with some of the typical parameters used to focus the search on directories:
Parameters
intext:"review your listing" AND directory
"free business directory"
inurl:submit intitle:directory
intitle:directory OR inurl:directory
inurl:/business-categories/
In the media pages
You'll find a lot of high-profile organizations and businesses in the travel industry that are listing online sources writing about them. Pages with lists of mentions of their website or organization on outside publications are most often titled 'in the media' or 'in the press', which is almost all that you need to quickly find a very decent amount of them. Aside from including them in the parameter, you just need to specify what kind of an organization you are looking for. For example, one of the possible queries you could use could go something like:
inurl:in-the-media OR inurl:in-the press AND intext:hotel OR intext:resort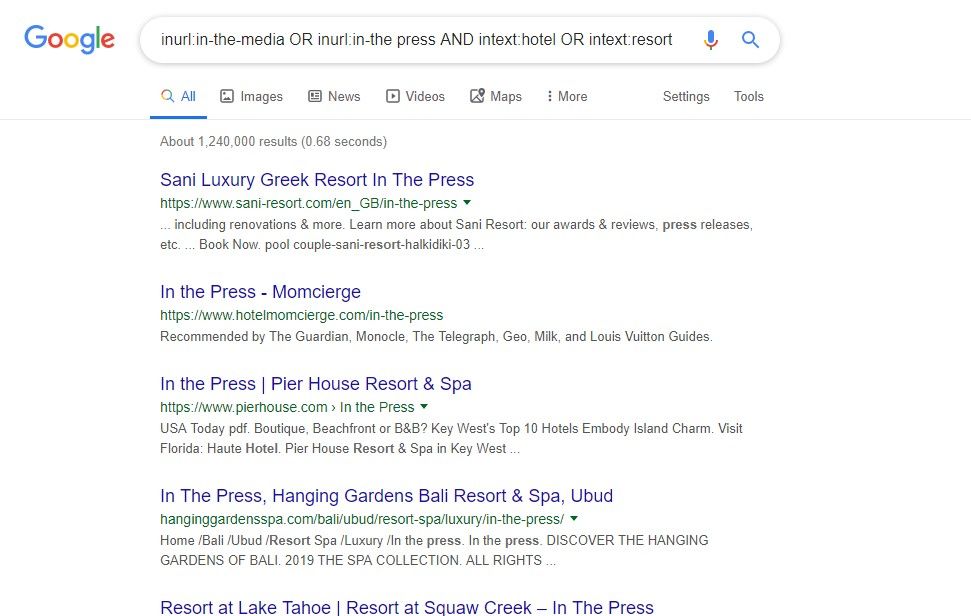 Of course, if you are actually going to outreach any of them, you need to actually be writing about them, and you have to make sure they'll be interested in including you. This means that they need to have a prominent, if not central, role in the content you'll try to get a link to. If you don't already have posts that you might use for this, writing one specifically for this purpose is mostly reserved for cases when the prospect is so valuable that you are prepared to take the risk.
Outreach
Even though people you're likely to come across on travel blogs or sites of companies you're outreaching for links are generally friendly and approachable, that doesn't mean they are also always accommodating.
Luckily, we have gathered first-hand information from our link builders, some of whom have years of experience in the travel niche specifically. Just to note, while we will primarily talk about outreach for guest blogging, most of the advice is applicable to any of the other link building methods as well. So, here's what they consider best practices, and how they deal with challenges typical for outreach in this industry.
Subject line
Subject lines can be used to introduce the idea of potential collaboration between you and the blogger, but shouldn't be so direct about it as to get you completely ignored. If you do make it obvious what you are contacting them about, you can also at least hint at the topic you would be interested in covering.
You can be somewhat more informal when contacting personal travel bloggers than when you're outreaching editors in company blogs, but should, naturally, be respectful in either case. While some of those you'll come across would prefer a highly informal register, never slip into it until you're completely sure this is the case.
Email format and content
Travel bloggers, especially those you really want a link from, are inundated with propositions similar to yours. Just getting them past the subject line is something of a success, but is not nearly enough to actually get a link from them.
This is why you have to make your point convincingly and quickly. For reasons covered in the next section, people running travel blogs won't always be too sensitive about how much you know about them personally, but will be interested into how fitting a contribution to their blog you'll be able to provide. In other words, there's no need to flatter them too much by prasing specific posts, but do make them know you understand what they are trying to achieve with the content they are publishing.
Aside from explaining what makes you qualified to offer a post, accompanied with links to your references; you should also go into more detail on what it is that you would write about. Depending on the blog's submission guidelines (when available) you can either send them a couple of specific topic suggestions, or leave it to them to inform you what it is that they need.
Challenges
While the tendency that some of our bloggers with more experience have been pointing out is not unique for travel websites, it is in this niche that it has been developing the most explosively.
Namely, an increasing number of people running personal travel blogs are either asking for money in order to publish the contributed posts, or offer to publish the post as long as they can remove the links as they please.
Since buying links goes directly against Google's guidelines, and most agencies or individuals doing this kind of link building don't have the budget to buy them anyway, you'll often find yourself having to fight for these links harder than you normally have to.
One of the ways to get over this block is to offer something truly amazing, like an extensive, well-written post backed by beautiful rich images. Of course, you won't be the first to have thought of this.
If this doesn't do the trick, you might need to offer some kind of added value. Depending on the site you are promoting, you might have some interesting bargaining chips. However if you have nothing else in your arsenal, you can always try to persuade the blogger by explaining that you will be heavily promoting the post to relevant audiences on social networks; or that you will link to their blog in one of your future guest posts. Naturally, if they do agree, make sure to honor your promise and perhaps build a foundation for a long and mutually beneficial relationship.
Example template email
Greetings [blogger's name],
I'm [name], a lifestyle blogger and adventure enthusiast who loves unusual trips, gadgets and creative ideas. I found your blog while I was researching a post I'm working on, and I decided to contact you with some ideas.
I'm a regular writer for [site 1] and [site 2], but I was a guest author on other blogs and magazines, like:
[Site3]
[Site4]
Which brings us to my proposal. Would you be interested in posting my work?
At the moment, I am working on these titles: [Topic suggestion 1] and [Topic suggestion 2] Would you perhaps like some of these to be published on your blog?
I'd really like to hear your opinion on this!
Looking forward to hearing from you soon.
Best regards,
[name]
Closing word
While we couldn't cover every detail of every aspect related to link building for travel websites, hopefully we have given you a framework for a complete strategy and addressed the major issues typical for each step of the process.
If you feel like you are still missing a couple of the pieces of the link building puzzle, you might want to visit our Learn SEO section.